Información
Mónica Ruiz / México
República de Guatemala 90
Semblanza Pieza
"Ausencia" es una video instalación que parte de una máquina de coser para rendir un homenaje a muchas de las desaparecidas que trabajaban en maquiladoras.
Nos encontramos en un espacio cubierto de hilos, obscuro y silencioso... sólo vemos un objeto estático, como si fuera una estatua. Ese objeto es una máquina de coser que esta ahí, respirando lentamente con una luz tenue... poco a poco comienza a funcionar e inicia una proyección con poemas.
La luz no es un cuerpo sino la forma de todos los cuerpos. La luz le da vida a estos poemas para una más de las desaparecidas con nombre sin cuerpo o bien cuerpos sin nombre.
Pensar la luz como vínculo entre la vida y la muerte o como mero simbolismo de esperanza o bien entender que la luz no es un cuerpo sino la forma de todos los cuerpos, es así como nace "Ausencia" una intervención a un espacio donde la luz le dará vida y cuerpo a distintos poemas que dialogan entre sí a través de máquinas de coser.
---
"Absence" is a video installation of a sewing machine to pay tribute to many of the missing women who worked in ensemmbly machines.
We are in a covered wire, dark and silent space ... you can only see a static object, like a statue. That object is a sewing machine that is there, breathing slowly in dim light ... slowly begins to work and start a projection with poems.
Light is not a body but the form of all bodies. The light gives life to these poems for more of the missing with body with no name or nameless bodies.
Think light as a link between life and death or as mere symbolism of hope or understand that light is not a body but the form of all bodies, this is how "Absence" intervention is born to a space where light will give life and body to different poems that talk to each other through sewing machines.
Statement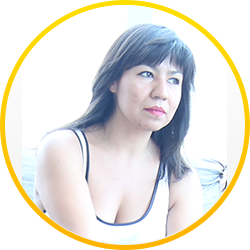 Mónica Ruíz Loyola estudió la Licenciatura de Artes Visuales en la Universidad Autónoma de México y en la Universidad Pompeau Fabra en Barcelona, donde obtuvo una Maestría en Artes Digitales. Ha estudiado diplomados, talleres y seminarios. Ha ganado becas tanto de CONACULTA como del FONCA.
Ha expuesto tanto a nivel colectivo como individual, nacional e internacionalmente. Ha dado talleres y conferencias. Actualmente forma parte del Laboratorio de Restauración Digital de la Cineteca Nacional y realiza colaboraciones en la parte visual en vivo con escritores y poetas y continúa su gestión en talleres.
---
Monica studied Visual Arts at the Autonomous University of Mexico and at the Pompeau Fabra University in Barcelona, where she earned a Masters in Digital Arts. She has studied workshops and seminars and has won scholarships, both for FONCA and CONACULTA.
She has exhibited her work both collectively and individually, in México and abroad. She has given workshops and lectures. Nowadays she is part of the Digital Restoration Laboratory of the National Film (Cineteca Nacional). She collaborates with writers and poets making their live visuals and she continues managing her own workshops.