Información
Máximo González / Argentina
Justo Sierra 71
Semblanza Pieza
Intervención de luz realizada con objetos rojos de plástico así como ensamblados, cables, focos y cajas de electricidad.
El trabajo de Máximo González alerta sobre el uso perverso del dinero, como valor supremo de representación del Mundo y como síntesis simbólica de la realidad cotidiana contemporánea. "Monumento al Peligro", Warning Monument" logra una integración perfecta entre los elementos fundamentales que conforman la obra: concepto, color y forma.
En este logro, destaca el elemento estético como valor en sí mismo y también como aspecto que actúa en la re-semantización de objetos cotidianos como platos, vasos, cucharas, cubetas, viseras, cables, etc., reubicándolos en la mirada contemporánea, llenos de misterio, encanto y belleza.
---
Máximo González's work alerts on the perverse use of money as a supreme value of representation of the world and a symbolic synthesis of everyday contemporary reality. 'Warning monument', achieves a perfect integration between the elements which compose the art piece: concept, color and form.
In this work, he underlines the esthetic element as a value in itself and also as an aspect which acts on the semantics of everyday objects as dishes, glasses, spoons, buckets, eye-shades, cables, etc., relocating them at the contemporary look, full of mystery, charm and beauty. Ercilia Gómez Maqueo
Statement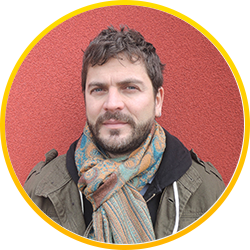 Máximo González nació en Entre Ríos, Argentina en el año de 1971. Estudió en el Instituto de Artes e Idiomas Josefina Contte, en Corrientes, donde obtuvo el grado de Maestro en Artes Visuales. Su primera exposición individual la presentó en el año 1996 en la Ciudad de Corrientes. Posteriormente se mudó a Córdoba, que junto con otros artistas creó Apeyron (Centro de investigación y experimentación escénico-plástica). Vivió en Buenos Aires de 1999 al 2003 para después irse a la Ciudad de México, donde radica actualmente. Fundador del proyecto "Changarrito". Su obra ha sido expuesta individualmente en 38 ocasiones y ha participado en 115 colectivas a nivel internacional.
---
Born in Entre Rios, Argentina in 1971, goes to school at the Josefina Contte Arts and Languages Institute in Corrientes, Argentina where she graduates as teacher on Visual Arts. In 1996 puts together his first individual exhibition in the city of Correintes, Argentina. By 1998 living in the city of Cordoba Argentina, creates along with other artists Apeyron (Scenic-plastic Research and Experimentation Center). From 1999 until 2003 lives in Buenos Aires to move to Mexico City afterwards. Has held 38 individual exhibitions in different countries and has participated in 115 collective exhibitions on an international level. Founded Proyecto Changarrito that can be seen at: proyectochangarrito.blogspotcom.