Información
Marcelo Schuster / Argentina
Justo Sierra 71
Semblanza Pieza
"Ilse" es un homenaje a la memoria de Ilse Weber, poetisa checa que doblegó la amargura del campo de Teresin en una sesión diaria poético-musical de catarsis y esperanza: su poemario reunía a los niños enfermos del Hospital del campo, a los niños inocentemente prisioneros, a su hijo esclavizado y a su otro hijo salvado aunque huérfano de madre. En 1944, los trenes del Este se llevaron a Ilse y a los niños del campo, y ya nunca más se supo de ellos.
La pieza Visual- sonora  "Ilse" recrea, por medio de indicios sonoros, la travesía hacia el Este –hacia los campos de la muerte-, entre la puntualidad de la alarma y la evanescencia del viento que sume la historia al olvido. 70 años más tarde una ráfaga nos devuelve una visión-escucha de lo que guardaban secretamente esos últimos segundos –quizás minutos, quizás horas-, el rostro-voz de una mujer arrullando una canción de cuna –"Wiegala"- a los niños de ayer, aunque también a los niños de mañana.
Por medio de un holograma, asistimos a la visión-al espectro de Ilse- que alguna vez fue silenciada en una cámara de gas, pero regresa indemne a la bóveda de una sinagoga.
---
"Ilse" is a tribute to the memory of Ilse Weber, Czech poet who overcame the bitterness of Teresin field in a poetic-musical daily session of catharsis and hope: his collection gathered sick children Field Hospital, children innocent prisoners, enslaved to his son and his other son saved but motherless. In 1944, the Eastern Railway took Ilse and rural children, and we never heard from them.
Visually the piece sound "Ilse" recreates, through sound cues, crossing east -to the death camps, including the timeliness of the alarm and the evanescence of wind add history to oblivion. 70 years later a blast brings us a vision-listening to what secretly kept those last seconds maybe minutes, maybe hours-face-voice of a woman rocking a lullaby - "Wiegala" - children of yesterday but also to the children of tomorrow.
Through a hologram, we attended the vision-spectrum Ilse ever was silenced in a gas chamber, but returned unscathed to the dome of a synagogue.
Statement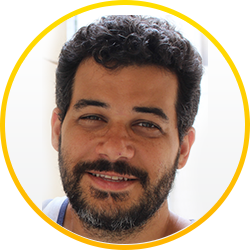 Filósofo y escritor, se formó inicialmente en la dirección de teatro y con apenas 23 años dirigió en Buenos Aires "La gangrena", basada en Yukio Mishima. Habiéndose doctorado en filosofía en la UNAM y con varios libros a cuestas bajo el sello Ediciones Sin Nombre, incursiona en el video documental inspirándose en Alexander Kluge con su ensayo fílmico El ojo-grama de la historia que estrena como proemio a la curaduría de la obra de Kluge en la ciudad de México que asimismo tiene el honor de curar. En 2014 publica Diaporama. La imagen dialéctica como resultado de dicho diálogo con el cineasta alemán, donde ensaya la relación entre el cine y la filosofía. Bajo ese mismo propósito, participa del Café de las Imágenes que organiza la Embajada de Francia en la antesala a la "Noche de las luciérnagas" en 2013, invocando las reflexiones de Georges Didi-Huberman.
---
Philosopher and writer, formed initially in theater direction and with only 23 directed in Buenos Aires "Gangrene" based on Yukio Mishima. Having a doctorate in philosophy at the UNAM and with several books written under Sin Nombre publishers, he ventures into the video documentary inspired by Alexander Kluge with his film essay The eye-gram of history which is the debut screening as a preface of his curatorship of Kluge´s work in Mexico City. In 2014, he publishes Diaporama. The dialectical image as a result of the dialogue with the German filmmaker, which disserts on the relationship between cinema and philosophy. Under the same idea, Marcelo, participates in the Images Coffee organized by the Embassy of France; a prelude of the "Night of the Fireflies" in 2013, quoting Georges Didi-Huberman.