Información
Orfeo Quagliata / USA
Proyección Interactiva
CALLE GANTE
Cl. Gante esq. 16 de Septiembre
Semblanza Pieza
La Retna es una pieza que nace de la experimentación y las ganas de crear algo en vidrio que estuviese inspirado en el ojo humano y las formas que se ven en el iris al verlo muy de cerca. La pieza en sí existe en una gran diversidad de colores y cada una es completamente única por su proceso artesanal de elaboración y cómo reaccionan los diferentes colores de vidrio en el proceso de fundición. Pero lo más impresionante de la pieza es la proyección que da al iluminarla, que produce como si fuese una mezcla de la retina del ojo y los colores de las galaxias y el espacio, todo eso mezclado en una proyección que con el movimiento de la luz evoca tridimensionalidad.
---
The retna is a piece born from experimenting and the will to create something in glass that would be inspired in the human eye and the shapes seen in the iris when looking at it very closely. The piece exists in a great diversity of color and each one is completely unique because of its artisanal process of preparation and how the different glass colors react in the process of melting. But, the most impressive thing about the piece is the projection it gives when it is illuminated, which produces, as if it was a mixture in the retina and the colors of the galaxies and space, all of this mixed in a projection that with the light's movement evokes tridimensionality.
Biografía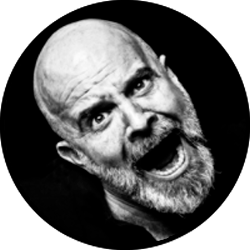 Nacido en San Francisco en 1972, Orfeo Quagliata es un diseñador industrial y fundador del Studio Orfeo Quagliata. Él aporta más de dos décadas de experiencia con el vidrio al Studio, incorporando el diseño con la dedicación y destreza de un artesano. Orfeo manifiesta su trabajo con el vidrio por medio de la implementación de varias técnicas revolucionarias que son expuestas a través de las colecciones del estudio.
---
Born in San Francisco in 1972, Orfeo Quagliata is an industrial designer and founder of Studio Orfeo Quagliata. He contributes more than two decades experience with glass to the Studio, incorporating design with the dedication and dexterity of an artisan. Orfeo's manifestation of his work with glass by implementing the various revolutionary techniques that are exposed through the collections of the study.
Ver más